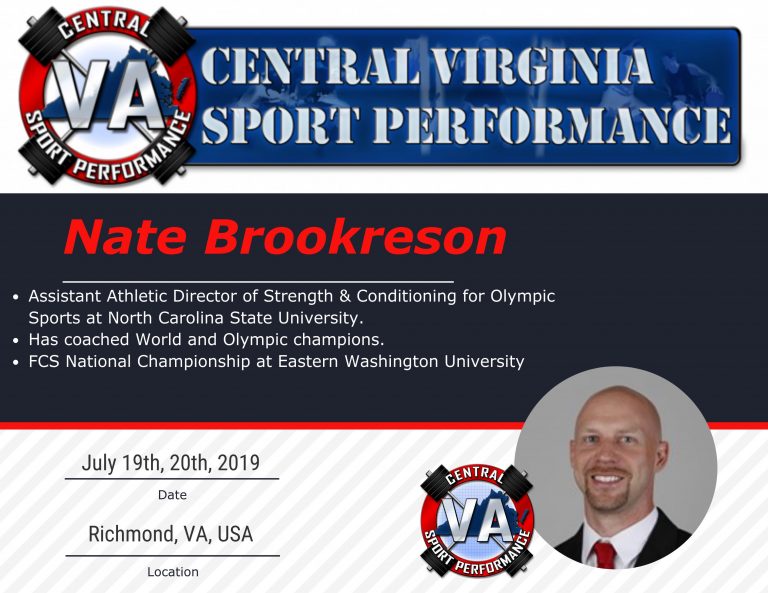 Today I am super pumped up to announce our third presenter for The 2019 Seminar, NC State's Assistant Athletic Director of Strength and Conditioning For Olympic Sports, Nate Brookreson. Nate's surgical approach to how he prepares his student athlete's down in Raleigh has shown up all around with world. Working with athlete's who have not just had success in collegiate, and ACC competition, but also multiple athletes who have recorded world championships and Olympic medalists. I can not be more excited to have Nate on the docket this summer, but enough from me, let's meet Nate Brookreson.
JD: If you could, please give our readers a little background information about you, what your niche in the world of athletics is, accomplishments, how you got there, education, any products you have available and/or notable publications.
NB: Currently, I serve as the Assistant Athletic Director of Strength & Conditioning for Olympic Sports at North Carolina State University. In my role, I directly supervise 6 coaches and 4 sports nutritionists, creating the strategic plan for the department, including the mission, vision and structure. I have served in a director capacity at 3 different universities of varying level (FCS, FBS, BCS) and have worked with most sports at the Division I level.  In terms of a niche, I believe most people would consider me a generalist who has attempted to develop depth of knowledge in many areas and who has a varied group of trusted colleagues.  I tend to look at every situation by asking questions first and exploring solutions through the utilization of internal and external sources, and attempt to reconcile scientific process with delivery and execution. I've arrived at my current situation based on a combination of good fortune, strong relationships and support from my wife and family. In regards to accomplishments, those belong to the athletes and teams with which I've had the privilege of serving.  My formal education is a Master's of Science in Physical Education from Eastern Washington University but education is a daily process.
JD: Discuss with us the mistakes you see made by strength and conditioning coaches in the United States and around the world, and what you feel should be done differently/how to correct these issues.
NB: I can only speak from what I've seen directly, which I where I'll start. I think too many coaches in our industry judge the efficacy of a program based on social media.  There is very little deep learning and personal exploration occurring if you gather the bulk of your information from social media platforms.  Spend time on site with coaches and see how the training is applied, speak to them about their rationale and process of how they arrive at these decisions and apply it in controlled settings.
Additionally, many others have said this before me, but we should always look to adapt to the athlete and not adapt the athlete to a system. The great thing about strength and conditioning is there is no exercise that you "have" to do.  Have a thematic approach to training, talk with the athletes, and have your program audited by seeking feedback from coaches, support staff and colleagues.
JD: What advice would you give a coach to improve knowledge in the lines of continuing education, meaning could you point our readers in a direction to find the scientific and practical information to improve the methods they use to improve performance?
NB: There is an abundance of information but very little knowledge of how to apply training knowledge. There are great books on leadership and organization but less people know how to actually hold a conversation with someone that is engaging and informative.  I would say life is the greatest experience that many coaches miss out on. Interact with professionals outside of your circle; spend time in the community volunteering and serving others; pour energy into meaningful relationships and seek knowledge outside of your comfort zone.  Surround yourself with people who don't agree with you.  And work on being a genuine person.
JD: If you could give a brief description of what our attendees can expect from you at The Seminar?
NB:I will be presenting a case study on an athlete in a return to sport process at North Carolina State University. I will discuss specific staff roles, the criteria used to develop the return to sport process and the exact script of what was done and the testing/assessment process guiding the decision making process. I will be transparent with our process and rationale.
JD: Any closing thoughts?
NB: I am privileged to be a part of the CVASPS. I have attended as many of the events in the past as possible and have always come away with actionable information I could immediately apply in my own setting.Also, the social environment is unprecedented and Jay always does an incredible job hosting.
WHO IS NATE BROOKRESON?
Nate Brookreson was named Director of Strength & Conditioning for Olympic Sports at North Carolina State in June of 2015.  His primary training duties are with women's basketball and swimming, while supervising the implementation of training for over 500 student-athletes.  During the 2017-18 academic year, NC State finished 15th in the prestigious Director's Cup standings, a cumulative measure of the success of the entire athletic department.  This represented the highest finish in the history of the university.
Prior to NC State, Brookreson was the Director of Athletic Performance for Olympic Sports at the University of Memphis from August 2013 until June 2015.  While at Memphis, Brookreson worked primarily with men and women's soccer, men and women's golf and track & field sprinters while supervising training for the Olympic sports department.
Before heading to Memphis, Brookreson was the Director of Athletic Performance at Eastern Washington University from October 2010 until August 2013, working primarily with football and volleyball while supervising the training of all EWU student athletes. He also served as an assistant at the same institution from August 2008 until his appointment to director.  Additionally, he served as a student strength and conditioning coach at the University of Georgia, assisting with baseball, softball, swimming and diving and women's tennis.
A native of Lacey, Washington, Brookreson earned his Bachelor's degree from Central Washington University and Master's degree from Eastern Washington University in Exercise Science. He is certified (CSCS) through the National Strength and Conditioning Association and (SCCC) the Collegiate Strength and Conditioning Coaches Association.  He also serves as the North Carolina State Director for the NSCA.
Nate is married to Kelsey Brookreson and has two sons, Blaise and Brock.
ENJOY THE CONTENT? THEN YOU SHOULD CHECK OUT THE STRENGTH COACH NETWORK!
You can find sensational content just like this in The Strength Coach Network. As a member of The Strength Coach Networks, you can access over 200 hours of the highest-level lecture content just like this one for 48 hours for only $1. Follow the link below to sign up and use the code CVASPS at check out to get a 48 hour trial for only $1. Check out The Strength Coach Network Here! https://strengthcoachnetwork.com/cvasps/
#StrengthCoach, #StrengthAndConditioningCoach, #Podcast, #LearningAtLunch, #TheSeminar, #SportsTraining, #PhysicalPreparation, #TheManual, #SportTraining #SportPerformance, #HumanPerformance, #StrengthTraining, #SpeedTraining, #Training, #Coach, #Performance, #Sport, #HighPerformance, #VBT, #VelocityBasedTraining, #TriphasicTraining, #Plyometrics