July 21st and 22nd, 2022
PLAE HQ. Canton, GA

The Seminar returns for our 12th in person event and I cannot express how excited I am to bring the "200 Person Round Table and BBQ" to PLAE HQ in Canton, GA this summer! Bringing The Seminar to one of the most fantastic strength coach environments in the world we had to bring in one of our best and most requested lineups in the 12 editions of The Seminar, and that's just what we did. As with our past 11 events we have formulated a docket that brings in some of the best practitioners in the world to one phenomenal location to provide you and your staff the best, most immersive, continuing education event and the best learning environment around. This year we have decided to bring back some of the highest "rated" speakers by you, our sensational attendees, and added a few of the most requested additions to the event as well. This day and a half event will be sure to be the best bang for your CEU budget dollar this summer.
SOME OF THE
BEST PRACTITIONERS IN THE WORLD
We can't wait for you to join us for what will be an absolutely sensation
weekend of learning, sharing, and fellowship to help drive our vocation
forward! But first, let's meet our presenters:
Friday July 21st 4:00 PM- Jay DeMayo, University of Richmond, NOVA Aquatics, CVASPS
Reverse Engineering: a look at programming through a different lens
I really can't believe that people wanted me to speak. I'm really excited to get the opportunity to share some of the thought process and systems we have built here over the past 19 school years, and hopefully walk out with better ideas on how I (selfishly) can improve them. In this presentation attendees will: 1) understand what reverse engineering actually means, 2) have a firm understanding of how this idea has impacted our programming, 3) be able to utilize the step by step approach to progressing exercise towards a goal that we follow (or a modified version of it). 
Who is Jay DeMayo? 
Jason DeMayo is in his 20th year as a strength and conditioning coach at the University of Richmond, and his 18th year working with the men's basketball team in 2022-23.
 
DeMayo is directly responsible for the strength training, conditioning and flexibility development of the men's basketball and tennis teams. He also educates the student-athletes on the proper nutrition to make sure their bodies are performing to their full potential.
 
As a top expert in field of strength and nutrition, DeMayo has presented at dozens of seminars and clinics across the country. He has also coached and lectured for a month at Ningbo University in China.
 
DeMayo came to Richmond from Indiana State, where he was a graduate assistant during the 2002-03 academic year. The Fairport, N.Y. native played on the soccer team at SUNY-Cortland.
Per: https://richmondspiders.com/staff-directory/jay-demayo/53
Friday July 21st 5:30 PM- Dr. Bryan Mann, University of Miami
A time efficient and practical means of force-velocity profiling, plus some things to look at
This talk will introduce a novel methodology to force-velocity profiling without needing to take a separate testing session. We will do the collection in a hands-on manner and then do some basic statistical analysis in excel to demonstrate what can be done with the data. 
Who is Dr. Bryan Mann?
Dr. Bryan Mann is the Director of Sports Science for Olympic Sports and an Associate Professor of Kinesiology and Sport Sciences at the University of Miami. Dr. Mann is also the Program Director for the Exercise Physiology major. Since 1998, Dr. Mann has been a strength and conditioning coach at Southwest Missouri State University, Arizona State University, University of Tulsa, and the University of Missouri.
Dr. Mann has had the fortune of working with student-athletes who went on to compete professionally and in the Olympics. Dr. Mann is most well-known for his popularization of various methods in the autoregulation of training, such as velocity based training and progressive resistance exercise protocols. Through these training methods athletes can see rapid increases in strength and power by progressing at their own rates of adaptation. Dr. Mann has also been involved in researching aspects of athletic performance, which have included aspects related to academic stress and their potential influences on strength and power. Dr. Mann has spoken internationally on these topics and has consulted professional sporting organizations on velocity based training and other topics.
Dr. Mann earned his Bachelor's degree from Southwest Missouri State University, and his Master's and Ph.D. degrees from the University of Missouri. Bryan is married to his wife Corinne, and has two daughter, Alayna and Hailey. Bryan hails from Springfield, Missouri.
Friday July 21st 7:00 PM- BBQ and Social Presented By PLAE
Saturday July 22nd 9:00 AM- Molly Binetti, University of South Carolina
Developing Athletes Outside the Lines
This presentation will dive into a:
Detailed look into a holistic, athlete-centric approach to training in team sport

Utilization of autonomy, creativity, exploration, and variability to create a sensory-rich learning environment and what that looks like throughout the course of an entire year, and an athlete's four-year career

Examples will include overall philosophy and approach to developing athleticism, individualization within a team, team sport "periodization", and warm-ups
Who is Molly Binetti? 
Sports performance coach Molly Binetti brought her athlete-centered coaching philosophy to South Carolina in June 2018, and the Gamecocks immediately responded to her focus on a holistic development of mind, body and spirit.
"Molly's passion for women's basketball was clear right off the bat, and that's the kind of energy we like in our program," South Carolina head coach Dawn Staley said. "Her experience with basketball and other sports gives her great perspective, and her research background shows her commitment to her craft."
In her three seasons on the staff, Binetti's ability to connect with student-athletes and develop creative and competitive workouts has kept the Gamecocks engaged and on the court throughout the season. South Carolina enjoyed tremendous success in her tenure, especially in the postseason, collecting two SEC Tournament championships and advancing to the 2021 NCAA Final Four following a 2019 NCAA Sweet 16 run.
Binetti joined the Gamecock staff after four seasons at Louisville working with volleyball, softball and women's tennis. She spent the first three of those seasons as the secondary sports performance coach for women's basketball as well. At Louisville, she focused on power development and applied sport technologies, a trend she continues at South Carolina. Prior to her tenure at Louisville, Binetti served as the sports performance coach for Purdue's women's tennis, men's and women's diving and cheerleading teams (2013-14).
The Eau Claire, Wis., native has her Strength and Conditioning Coach certification from the Collegiate Strength and Conditioning Coaches Association and is listed as a Certified Strength and Conditioning Specialist and a Registered Strength and Conditioning Coach by the National Strength and Conditioning Association. She has contributed to two articles published in the Journal of Strength and Conditioning Research, both focused on the performance of elite women's basketball athletes.
After earning her bachelor's degree in exercise physiology from Marquette in 2012, Binetti completed her master's in kinesiology and exercise science at Minnesota in 2013.
Saturday July 22nd 10:30 AM- Ben Kenyon, Philadelphia 76ers
Title and Synopsis Coming Soon!
Who is Ben Kenyon? 
Ben Kenyon is the Head Strength and Conditioning Coach for the Philadelphia 76ers and has spent the last 10 seasons working in the NBA with the world's best athletes, coaches and leaders. Throughout his nearly 20-year career, BK has learned how to focus, navigate, perform and grow personally and professionally in high-stress environments. These are the same principles he used to complete three Half Ironman races, two Olympic-distance triathlons, one marathon and multiple half marathons. As the ultimate hype man, he values boldness and outrageous optimism. BK believes it is necessary for emerging leaders to build a strong foundation that will help them consistently climb over the years.
Per: BK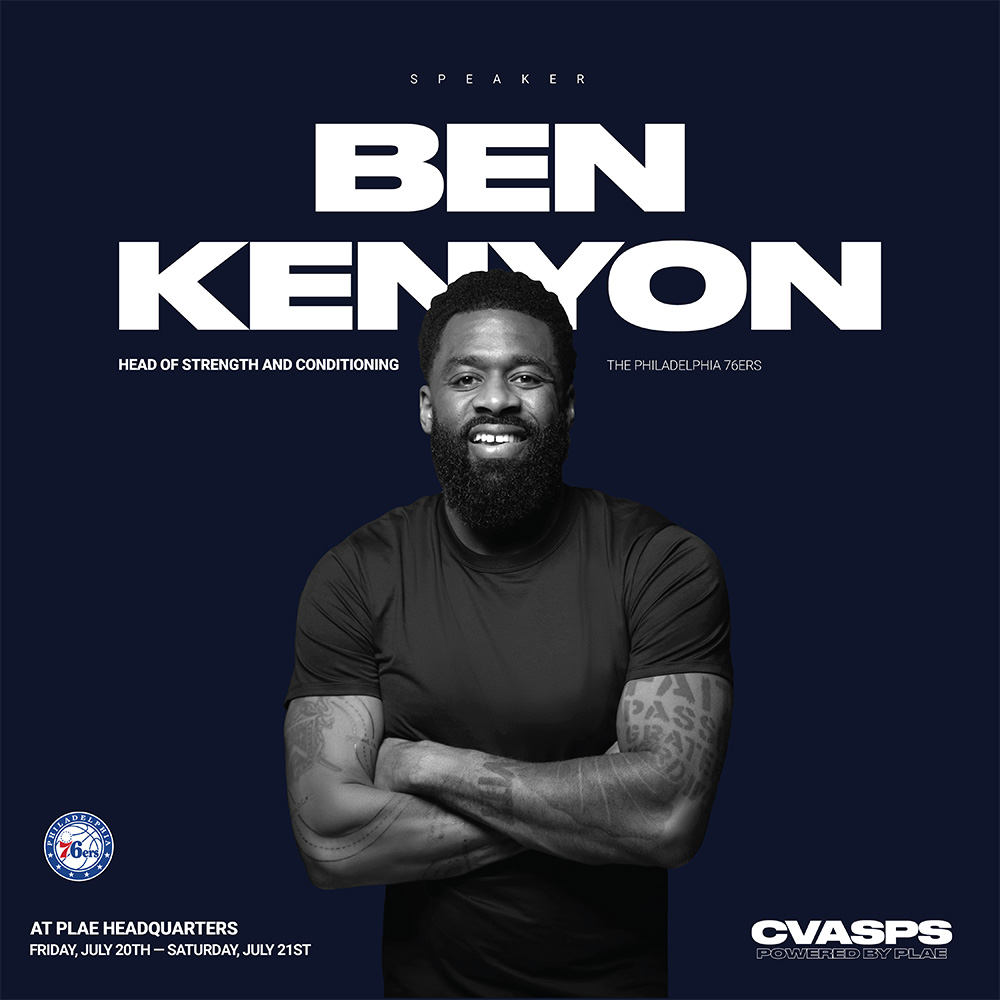 Learn More About Ben Kenyon:
Saturday July 22nd 12:00 PM- Lunch, provided by…
Saturday July 22nd 1:30 PM- Matt Gildersleeve, Kansas University
Developing Game Speed: How to program, execute and evaluate Game Speed
This presentation will cover: 
-in order to develop game speed, we must first define it. 
-increasing speed is a big step, but it is not the only step. What is the gap between getting "faster", and translation to actual game speed? 
– We must know what we are looking for, in order to know the goal of our programming. To do that we must truly understand the demands of the sport, and the movement that is specific to it. 
– getting faster just to say we got faster is not the goal. The goal is translation, the goal is skill acquisition that will actually make us better at our sport
Who is Matt Gildersleeve? 
Matt Gildersleeve joined the Kansas football staff in May 2021 as the head football strength and conditioning coach. In his role, Gildersleeve oversees Kansas football's strength and conditioning staff.
Gildersleeve came to Kansas after two seasons at Buffalo where he oversaw UB football's strength program, nutrition program and fueling station. In his two seasons at Buffalo, the Bulls went 14-6, and in 2019 defeated Charlotte, 31-9, for the school's first-ever bowl game victory. In the 2020 pandemic-shortened season, Buffalo went 6-1, finished first in the MAC East and ended ranked No. 25 in the Associated Press and Coaches' polls.
Prior to Buffalo, Gildersleeve spent seven seasons at Akron where he was the director of football strength and conditioning and nutrition specialist for the Zips. He was promoted to the director title in the spring of 2016 after serving as the head coach of football strength and conditioning for two seasons. Under his direction, Akron won the 2017 MAC East Division title.
Gildersleeve earned a bachelor's degree in exercise science from Mount Union in 2012.  The Dean's List student was a four-year letterwinner at tight end for Mount Union and was part of four Ohio Athletic Conference championships and the 2008 national championship.
A native of Phoenix, Arizona, Gildersleeve earned a master's degree in sport science and coaching principles from Akron in 2014. He worked as a graduate assistant at Akron until he was named the assistant director of football strength and conditioning in January 2014. Gildersleeve was promoted to head coach of football strength and conditioning in May 2016.
Gildersleeve is certified by the National Strength and Conditioning Association and is Precision Nutrition Level I certified.
He is married to Ana Martin-Sacristan, a former Academic All-MAC long jumper and runner from Akron. They have a daughter, Mia.
Saturday July 22nd 3:00 PM- Boo Schexnayder, SACSpeed
Critical Factors in Speed Development
The topic is "Critical Factors in Speed Development". I plan to get very detailed about speed/power development programming including: 
How to construct and administer acceleration and speed development sessions for optimal results

Long term programming and progressions to maximize speed acquisition

Eliminating common programming obstacles to speed acquisitions

Examining the Relationships between speed and strength and maximizing programming compatibility
Who is Boo Schexnayder? 
Irving "Boo" Schexnayder is regarded internationally as one of the leading authorities in training design. He currently runs Schexnayder Athletic Consulting brings 42 years of experience in the coaching and consulting fields to the organization.
He is most noted for his 18-year term on the LSU Track and Field staff. Schexnayder, who coached collegiately at Louisiana-Lafayette and Blinn Junior College prior to arriving at LSU, placed quite an imprint on the collegiate track and field scene. Regarded as one of the world's premier field event coaches, he was the mastermind behind 26 NCAA Champions during his collegiate coaching career and is regarded as one of the greatest field event coaches in NCAA history. He has been a part of 13 NCAA Championship teams and a pair of Juco National titles, as well as developing a host of conference champions and All-Americans.
Schexnayder has also been a prominent figure on the international scene. He has coached 18 Olympians and 8 Olympic/World Championship medalists. He has served on coaching staffs for Team USA to the 2003 Pan Am Games in Santo Domingo, the 2006 World Junior Championships in Beijing, and was the Jumps Coach for Team USA at the 2008 Olympics in Beijing.
Schexnayder has been just as successful off the track. He is certified at Level I, II and III, and owns the prestigious Master Coach Designation from USA Track and Field. He is also certified by the NSCA as a Strength and Conditioning coach.
Schexnayder has been heavily involved in Coaching Education.  He formerly served as national chair of USATF's Coaching Education Committee, Jumps Subcommittee chair, and chair of the Biomechanics subcommittee. Schexnayder was the founder of the Track and Field Academy, the educational branch of the US Track and Field and Cross Country Association. He served as program director from its inception in 2009 through 2017, and still serves as an instructor in biomechanics, training design, and event specific courses.
Schexnayder also served a short stint as Director of Sports Performance for Thibodaux Regional Medical Center, offering consulting services to regional schools and sports agencies and coordinating Performance programs for the Thibodaux Regional Wellness Center.
An educator by profession and a mentor of hundreds of coaches, he has been very active in curriculum development for Coaching Education programs, and has lectured nationally and internationally on speed/power training programs, biomechanics, track and field specific training and rehabilitation. He has also authored several publications covering these topics.
He has also been very active in the consulting field, working in NFL player development and combine prep and consulting for individuals, high school programs, collegiate programs, professional sports teams, and several foreign NGBs in the areas of training design, jump improvement, speed training, rehabilitations, and specialized programs for football, basketball, soccer, golf, and volleyball.
Prior to his collegiate and international career, Schexnayder was a successful mathematics teacher and prep coach at St. James (LA) High School for 11 years, coaching football, track and field, and cross country. He is a member of that school's Hall of Fame.
The Vacherie, La., native was class valedictorian at St. James High in 1979, and earned both his bachelor's and master's degrees at Nicholls State University. He graduated cum laude with a B.S. in physical education in 1983 and later added a master's degree in administration and supervision in 1988, again earning cum laude honors.
Per: Coach Boo
On top of those five world leaders in our field, I wanted to increase the value we provide for our awesome attendees to make sure that we are providing not just the best education and networking experience, but also making it as smooth of a weekend as possible for the great practitioners that venture to Canton, GA. So, with that in mind, we have added lunch Saturday. Thankfully, we have some amazing partners, who have stepped up to offer our awesome attendees' lunch inside PLAE HQ! This means no need to travel during the day Saturday, so there are even more opportunities for you and your staff to reach out to the presenters, attendees, and partners to continue to drive discussion, network, and continue to grow! Add that in with the absolutely killer social Friday night, and "The 200 Person Round Table and barbeque" is back and better than ever!
Hundreds have benefited from attending this seminar and you can too!
I've been going to Jay's seminar most every year for the last four, five years. I really enjoyed it. The best thing about the whole conference is different than most place you go, is just the camaraderie that you get and the hands-on experience or just the ability to talk to people and coaches from all over and just the social interaction. The presentations are great but really, your [inaudible] made in the evenings when you're sitting around just talking and spit balling things, and it's been really good because I'm a little guy, I'm a totem pole, a high school coach and I get to hang out with people from up to professional ranks, college and beyond, and it's pretty cool because nobody cares about the logo on your shirt, just about helping people get better.
Tony Stewart
For my money, there's really not a better continuing education summer conference/summer seminar out there than what Jay puts on down in Central Virginia in Richmond. The content, the speakers are always topnotch and from all over the world, and more importantly, the folks that come and hang out, and the environment that Jay has put on where everybody stays together and drinks some beers together, and has a good time, talk shop, the level of discussion, the level of interest in the different perspectives are topnotch. Like I said, it's one of the best con ed opportunities that I attend and I've gone several years, I've had the good fortune of speaking at the seminar as well, and I continue to go back because it's just fantastic. The Central Virginia Sports Performance Seminar is one of the best out there and you gotta go
Devan McConnell
A couple words about this seminar and everything that Jay DeMayo has done with CVASPS in the past: I will never forget - for years, I had heard about almost what seemed like this underground conference, this place where not - it wasn't just about presentations, it's about the discussions that were going on. It was about all the things that were going on behind the scenes and just the amount of people that went into this open-minded, and I remember that was a big fear of mine when I was a speaker there especially because one year, I was going in and talking about a pretty contentious topic called Dark Side of Leadership that really discussed how a lot of what we think are the most effective coaching strategies in this socially definable realm really aren't and you have to look at other things that most people look at as kind of "dark leadership" traits, and I thought I'd get booed or howled off stage and it was the opposite. That crowd was so open-minded, they asked great questions, they were warm and receptive, so you're going to get quality people and you're going to get quality information, and it's going to stimulate and promote a lot thought. Be sure to check it out, any time Jay does a seminar.
Brett Bartholomew
I flew across from Australia, based my troop around the seminar, and it was unbelievable. Jay put on some great speakers, it's topnotch information, stuff I could put in Australia to practice, but I guess for me, the major thing I took away from it was just the relationships and bouncing ideas off of other great coaches who are all in attendance. I've built a lot of relationships there, guys I still chat with and I keep in contact with. Unfortunately, I can't be there this year because of work, but I'm glad because once again, the lineup looks unbelievable and I highly recommend it to any coach, yeah.
Graeme Morris
Biggest reason why I think it's the best seminar that I have been to in strength and conditioning is simply the experience, not only the people that Jay brings in to present, but the environment that is built there through the smaller groups, through the meet and greets, through getting your questions answered and being able to talk to the presenters not only during their actual presentation but after in that small family-like environment is the reason why I'll come back every single year. I've met tons of people there that I've networked with that I did know before, but also I've hired people that I did not know before just through meeting and talking, and sharing ideas, and continuing to do that after and getting excited to come back each and every year is why I'm there and why I'm going to be there this year in July, so I look forward to seeing you guys.
Chris McCormick
It's one of my favorite conferences in the country, there's no other conference that you're going to meet this type of network of people and just great strength coaches, open and honest sharing, that's backed upped by just great presentations, current training research, current best practices in sports science and athlete monitoring, and the speakers, the presentations just serve as a gateway to ask meta-questions and lead to better discussions amongst the audience and the presenters. So it's the only conference that you have this type of intimacy and you're able to network and associate with some of the biggest names in the field. When I was a first year strength coach and one year removed from my GA, my first year a full-time strength coach, I'm at this seminar hanging out with Cal Dietz and Jim Snider, and Dr. Mann and Jay DeMayo and we're just having these really in-depth discussions after the seminar was over and there's no other conference in the country that you're going to have this type of setting in this type of environment in this type of field, so I really appreciate you, Jay DeMayo, I appreciate everything that you've been doing. Really looking forward to the seminar this July. Hopefully, I'll see a lot of you guys there.
Sean Conaty
I've been going there as long as I can remember and as long as Jay would have me. But really, when it comes to continuing education, there's really no better event out there. At least here in the United States, understanding that you could kind of hit it from the private sector to the college sector, to pro sector, and then also looking at kind of like where history came from, right? One of the things I've been so fortunate enough to be around with Jay is just learning kind of why we do what we do and what has came before us so we could move the industry forward. It's hard to do that if we don't know where we came from and where the results are from, and kind of who founded that. Jay has done an amazing job from the presenters to just the attendees. In my opinion, it's like you learn more from just the audience members than you do sometimes from the presenters because they're going to mingle and you're going to learn so much. The sponsors, the affiliates, people involved, they all are just great people, people that became lifelong friends for me, so I encourage you guys to show up. I know it's something that I'll bring my staff to every year, and I'm just pumped that it's going to happen again this year. Looking forward to it, hope to see you guys there.
Justin Kavanaugh
I have attended Central Virginia Sports Performance Seminar three of the past four years, only missing 2016, I believe, due to finishing my graduate degree in Australia. Central Virginia Sports Performance Seminar in every way is a first-class experience. The education is always topnotch, like the lineup of speaker is always outstanding. The networking and connection that you have the opportunity to develop due to the structure, the schedule, the dorms have been outstanding. I know that that's changing this year which will hopefully only enhance the experience, but I've never had a bad experience there and I've connected and stayed connected with several people that I've either shared a room with or I've met through that experience and I just cannot speak more highly of what you experience when you choose to get out to Richmond. I'm grateful for every part of it, and I appreciate Jay for taking the time and energy to make something like that happen year in and year out. I'm in the process of starting my own seminar here in south Texas, so having a little bit of an understanding of what it takes to get something like that rolling just enhances my gratitude for that, so I really appreciate what he does and what that experience does for everyone who attends every year, and I hope that you choose to attend.
Daniel Martinez
I really don't think you can put into words the enormity of how great this clinic is and what Jay does for our organization and our profession. It was a tremendous honor and humbling experience for me to speak here, but more importantly to sit in the audience and take notes and learn, from some of the best in the business. People who I've always admired and I've acknowledged in my references and given credit to helping increase my knowledge about the field of physical preparation and stress management as an athletic coach.
Buddy Morris
image of Brett Bartholomew
image of Justin Kavanaugh
Fairfield Inn & Suites Canton Riverstone Parkway
120 Reinhardt College Parkway Canton, Georgia 30114
FEATURED AMENITIES ON-SITE
– Sustainability – Dry Cleaning Service
– Free Wifi – Convenience Store
– Convenience Store – Meeting Space
– Fitness Center – Indoor Pool
– Free Continental and Buffet and Hot Breakfast
This fantastic lineup consisting of the best of the best from the world of sports performance will all be converging to the gorgeous Canton, GA for the best in professional development opportunity for anyone involved in strength and conditioning, high performance, and sports medicine. With some of the best scientific and coaching minds in the world of physical preparation, seminar for only $299 is an absolute steal and WILL sell out quickly! Reserve your seat today by clicking the link below!
Don't Miss Out!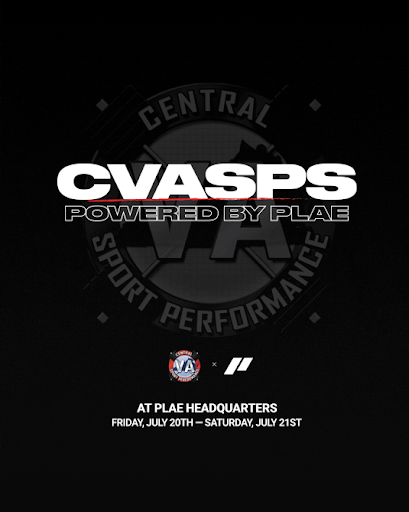 Register for our 12th person event and part of our best seminar yet