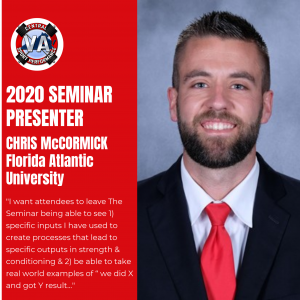 I am elated to introduce our second presenter for The 2020 Edition of The Seminar, Florida Atlantic University's Director of Strength and Conditioning for Olympic Sports, Chris McCormick. When it comes to students of the iron game, and willingness to explore different schools of thought when it comes to training, there are very few at a higher level then Chris. Tie that in with his willingness to share through multiple platforms and you have an absolute home run of an addition to this July's docket. Enough from me though, let's meet Chris McCormick…
JD: If you could, please give our readers a little background information about you, what your niche in the world of athletics is, accomplishments, how you got there, education, any products you have available and/or notable publications.
CM: My passion is to help people take the next step to who they want to become, which currently is served in my role as Director of Strength & Conditioning for Olympic Sports at Florida Atlantic University. My career is unique as I quit pursing my PhD in Neuropsychology/School Psychology to go back into coaching Football back in 2011. This leap of faith lead to my focus on Strength & Conditioning & now I am completely out of Football! I have worked at & been a Director at multiple level (DII, FCS, FBS) in the collegiate setting. I try to share my work on social media, HMMR Media & your tremendous resource with CVASPS!
JD: Discuss with us the mistakes you see made by strength and conditioning coaches in the United States and around the world, and what you feel should be done differently/how to correct these issues.
CM: A couple of issues come to mind that have nothing to do with the "X's & O's" of strength & conditioning. Number 1, I feel we have a major identity issue in our field with who we want to be defined as. With the influx of high-performance teams & growing back room staffs, many strength & conditioning coaches now want specific titles (Human Performance, Physical Preparation, etc.) or take on various responsibilities outside the weight room. While these changes can be a good thing, we still have trouble defining to others (specifically sports coaches) what we actually do or the services we can provide which has hurt our growth as a field unlike establish national organization with hard standards say like Athletic Training's NATA.
Number 2, I think we must do a better job with creating universal language/semantics/definitions that are used internally & externally in strength & conditioning. Simply stated, how can we expect to implement things we want with athletes or more importantly communicate these ideas to sports coaches when we still can't agree on if it's a Bulgarian Split Squat or a RFESS or a Split Stance Elevated Single Leg Squat? This ties into my first point about identity, but I believe many of the "issues" we are having in our field are self-induced. It's not about starting with strength & conditioning and working forward…it's about working backward from sport itself which requires our language to reflect this! The better we get at these things above, the more impact I feel we as a field can truly have on those that we work with.
JD: What advice would you give a coach to improve knowledge in the lines of continuing education, meaning could you point our readers in a direction to find the scientific and practical information to improve the methods they use to improve performance?
CM: I am bias, but the resources that Yosef Johnson & UAC put out are top notch. Much of the new strength & conditioning information that is being discussed on social media now is regurgitated or as Bob Alejo says "Tell me what it is and I'll tell you what we used to call it". UAC's texts are from authors that do actual research on elite athletes and give straight forward information that is PRACTICAL…which is lacking in S&C I feel these days.
JD: If you could give a brief description of what our attendees can expect from you at The Seminar?
CM: Many coaches are quick to tell you what they know or how much information they have accumulated, but then don't show these things in their actual programs or are misused/misunderstood. I want attendees to leave The Seminar being able to see 1) specific inputs I have used to create processes that lead to specific outputs in strength & conditioning & 2) be able to take real world examples of " we did X and got Y result" to test themselves or make better so I can steal it back from them to help those around me! I hope to share multiple examples of not only the physical preparation we have done with people, but also other things personally, psychologically & the integration into the technical & tactical preparation of sports to holistically develop those around us. We need to focus more on practical ways in strength & conditioning to help impact the performance of the teams, athletes & coaches we work with than just arguments about general vs specific exercises.
JD: Closing Thoughts.
CM: My hope is that I can make a fraction of the impact on the 2020 attendee's as those have presented in the past several years have done for me. I am honored to share the same stage as these previous presenters & this year's crew! As a young & upcoming coach, sitting & chatting with big names in our field like Dan Pfaff, Fergus Conolly, Derek Hansen, Erik Korem, & others can be very intimidating. The one thing that has stood out is that with all these people is not only did they take the time to listen & answer my questions…but also ASKED me questions about what I do & used it as a learning opportunity for their development! This type of environment in Richmond & the humility of sharing information that has been created separates this event from all others. This BY FAR is the best conference/seminar I have attended, not just because of the quality of presenters but the authenticity of people that are attracted to this event. I cannot thank Jay & the UAC Crew enough for their impact on my career!
Who is Chris McCormick?
Chris McCormick joined the Florida Atlantic University in June 2018 as the head strength and conditioning coach for Olympic sports. In January of 2019 his position was elevated to Director of Strength and Conditioning for Olympic Sports.
Prior to FAU, McCormick worked three years at Gardner-Webb University, where he served as the director of athletic performance. While at Gardner-Webb, he directed the development and implementation of training in regards to athletic performance and nutritional protocols for 22 Division I athletic teams.
From November 2013 through July 2015, McCormick worked as an assistant strength and conditioning coach at Eastern Kentucky University. While at Eastern Kentucky, McCormick directly oversaw the strength and conditioning programs for men's basketball, baseball, women's soccer, track & field, and men and women's tennis.
In 2013, he served as the head strength and conditioning coach at the University of West Alabama. McCormick directed all aspects of strength and conditioning for 13 Division II teams. While at West Alabama, he developed a strength and conditioning internship program that provided individuals with the opportunity to gain hands-on experience on strength and conditioning programs for intercollegiate athletic programs.
In 2012, McCormick served as an assistant director of strength and conditioning at Charleston Southern University, overseeing strength and conditioning programs and nutritional protocols for all 14 Division I athletic teams.
McCormick gained his first collegiate experience at Charleston Southern in 2012, where he also served as an assistant defensive line coach for the Buccaneers football team.
In 2010, McCormick received a bachelor's degree from Indiana State University. In 2011, he received a master's degree from Ball State University. He is certified through the National Strength and Conditioning Association having obtained his CSCS and is CPR/AED certified. He is also a member of the National Strength & Conditioning Association (NSCA). (From FAU Sports Web Page).
Grab your seat for this summers MUST ATTEND continuing education event here!