"Let's simplify sport nutrition so it makes sense and can be used to yield superior results." –R. Brunner
If you have an affinity for sports nutrition like I do then you will enjoy reading Chapter 9 of The Manual Vol. 3 by Rick Brunner. Brunner has a ton of experience in the performance supplement game and I thought the information provided with this chapter was readily accessible for anyone within the field of strength and conditioning. Sometimes you can spend hours just trying to digest a few pages of a research article on a specific protein derivative, so I was impressed by the information and the layout of the chapter. Brunner discusses performance nutrition in the areas of anabolic, energetic, adaptogenic, neurologic, immunologic, and calmative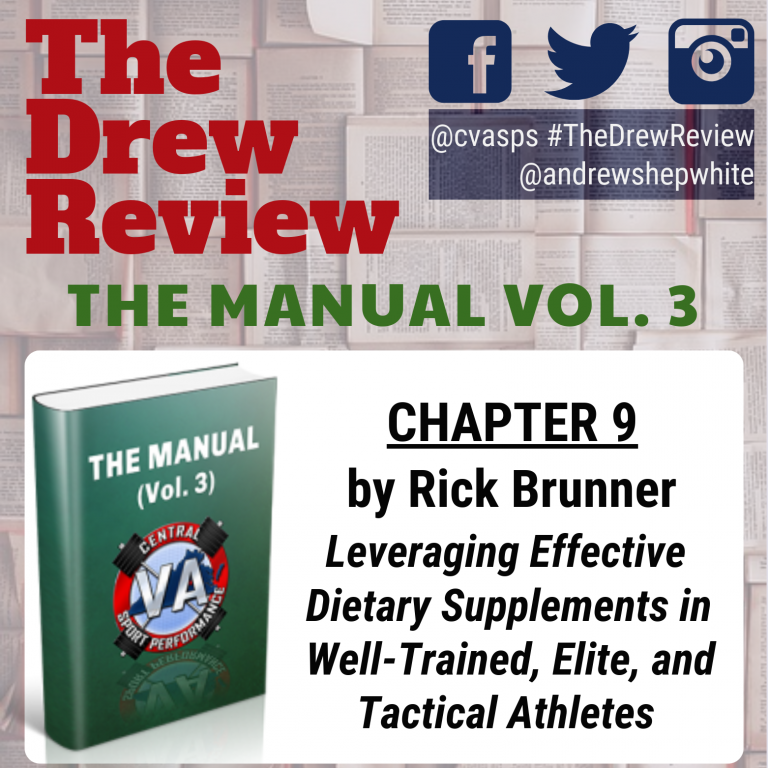 supplementation. My one complaint is the lack of any sort of conclusion statement, the chapter seems to end too abruptly. If you want more information on what kinds of supplements your athletes could take read this chapter and then check with you local or national governing body to see what is acceptable, but supplementation shouldn't be viewed as a taboo but rather another resource to utilize to improve performance.
For more and to order your copy of The Manual, Vol. 3, follow the link here: https://cvasps.com/cvasps-manual-vol-3/
We are hoping to provide the best possible content for strength coaches with each of our shows. If feel this could provide value for anyone else in the strength and conditioning field please feel free to share.
Enjoy the content? Then you should check out The Strength Coach Network!
You can find sensational content just like this in The Strength Coach Network. As a member of The Strength Coach Networks, you can access over 200 hours of the highest-level lecture content just like this one for 48 hours for only $1. Follow the link below to sign up and use the code CVASPS at check out to get a 48 hour trial for only $1. Check out The Strength Coach Network Here! https://strengthcoachnetwork.com/cvasps/
#StrengthCoach, #StrengthAndConditioningCoach, #Podcast, #LearningAtLunch, #TheSeminar, #SportsTraining, #PhysicalPreparation, #TheManual, #SportTraining #SportPerformance, #HumanPerformance, #StrengthTraining, #SpeedTraining, #Training, #Coach, #Performance, #Sport, #HighPerformance, #VBT, #VelocityBasedTraining, #TriphasicTraining, #Plyometrics