"Winning only comes when preparation, talent, and health are operating on all cylinders." –Carl Valle
Chapter 7 of The Manual Vol. 2, written by Carl Valle, addresses the multiple variables at play that come with aerobic training in the team sport setting.  Included in the contents of this chapter are; goals of aerobic training, modeling the aerobic training sessions in a season, aerobic adaptations, different kinds of aerobic workouts, managing strain, and monitoring to ensure recovery and performance increases.  To put it simply this chapter covers A LOT, but I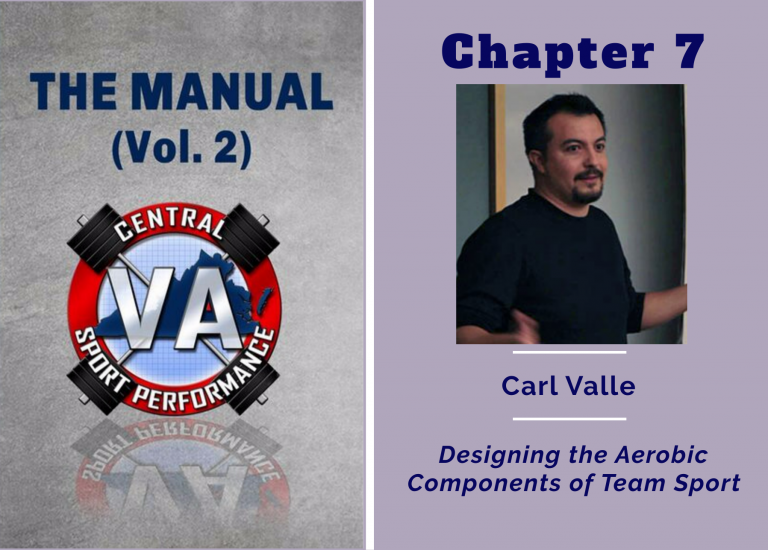 thought Valle did a fantastic job keeping things clear and concise.  What I liked most about this chapter is the continued emphasis on an athlete centered program where the main goal is to improve the performance of the athlete.  Valle doesn't shy away from challenging the strength coach to be self-reflective and become accountable for the programs they create.  Strength coaches looking to make/tweak aerobic conditioning sessions will find this chapter to be a fantastic rubric to work from.
Check out The Manual Vol 2 here: https://cvasps.com/cvasps-manual-vol-2/
We are hoping to provide the best possible content for strength coaches with each of our shows. If feel this could provide value for anyone else in the strength and conditioning field please feel free to share.
Enjoy the content? Then you should check out The Strength Coach Network!
You can find sensational content just like this in The Strength Coach Network. As a member of The Strength Coach Networks, you can access over 200 hours of the highest-level lecture content just like this one for 48 hours for only $1. Follow the link below to sign up and use the code CVASPS at check out to get a 48 hour trial for only $1. Check out The Strength Coach Network Here! https://strengthcoachnetwork.com/cvasps/
#StrengthCoach, #StrengthAndConditioningCoach, #Podcast, #LearningAtLunch, #TheSeminar, #SportsTraining, #PhysicalPreparation, #TheManual, #SportTraining #SportPerformance, #HumanPerformance, #StrengthTraining, #SpeedTraining, #Training, #Coach, #Performance, #Sport, #HighPerformance, #VBT, #VelocityBasedTraining, #TriphasicTraining, #Plyometrics