"Through the domains of medicine, and in emerging coaching literature, the topic of athlete centered, or patient centered is becoming a topic of increased attention." –R. Ballard
The 3rd Edition of The Manual starts off with a bang because this chapter talks about the structure of an athletic department and the importance in developing a "scope of practice." Specifically, role delineation between staff members and how that interplay is crucial to providing athletes the best environment for health and performance. Randy does a fantastic job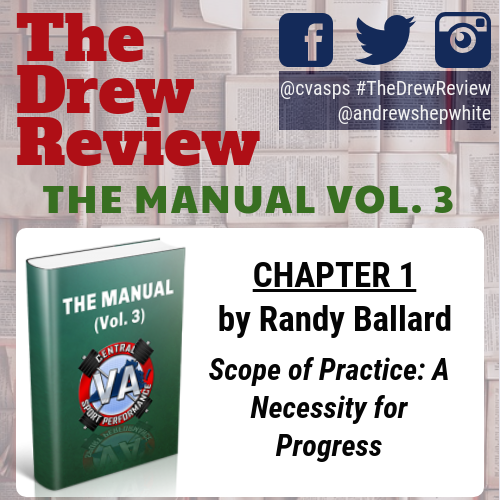 providing his views on what the sport coach, athletic trainer/sports medicine, S&C coach, and sports nutritionist's role should be in the athletic department. Ultimately, the goal is to take care of the athlete and this chapters speaks to the difficulties in the overlay or lack thereof between the different professions that make up an athletic department. You can tell a lot of research went into this chapter and the thought process was complete, so any strength coach that wants to be enlightened to the idea of scope of practice and open up the line of communication between different staff members should read, study, and share this chapter.
For more or to order your copy of The Manual Vol. 3 Follow the Link here: https://cvasps.com/cvasps-manual-vol-3/
We are hoping to provide the best possible content for strength coaches with each of our shows. If feel this could provide value for anyone else in the strength and conditioning field please feel free to share.
Enjoy the content? Then you should check out The Strength Coach Network!
You can find sensational content just like this in The Strength Coach Network. As a member of The Strength Coach Networks, you can access over 200 hours of the highest-level lecture content just like this one for 48 hours for only $1. Follow the link below to sign up and use the code CVASPS at check out to get a 48 hour trial for only $1. Check out The Strength Coach Network Here! https://strengthcoachnetwork.com/cvasps/
#StrengthCoach, #StrengthAndConditioningCoach, #Podcast, #LearningAtLunch, #TheSeminar, #SportsTraining, #PhysicalPreparation, #TheManual, #SportTraining #SportPerformance, #HumanPerformance, #StrengthTraining, #SpeedTraining, #Training, #Coach, #Performance, #Sport, #HighPerformance, #VBT, #VelocityBasedTraining, #TriphasicTraining, #Plyometrics