"Stress demands rest, and rest supports stress."
– Stulberg and Magness
Peak Performance was one of the easiest books I have ever read. While there are plenty of research and literature references Stulberg and Magness fall back on, this book reads like a memoir. This aspect is what I liked most about this book; the real-life examples the authors draw upon to convey their points and then use science to further support their points. All the topics and examples are presented in ways that the reader can easily comprehend and apply to their own life. A lot of books are geared toward improving performance; this book is no different in that endeavor, but what this book offers is a chance to help people, or yourself, get better without all the typical fluff or constant repetition. After reading this book you will find yourself reviewing how you have done things in the past and discover new ways to optimize your performance.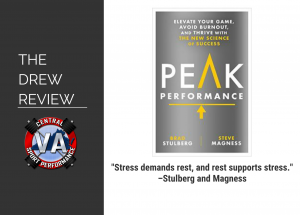 A little over 200 pages; this book is either a quick read or a few hours of listening. There are 9 chapters in all with 3 different sections labeled, "The Growth Equation," "Priming," and "Purpose." These sections help you the coach or athlete, understand stress, prepare for success, and find your reason to perform. Also, throughout each chapter there are "Performance Practices," which help the reader act on the information they are digesting. This book should be on your shelf because a. it's simple to read so there is no excuse, and b. Peak Performance is true to it's title…..it will help you and your athletes succeed.
We are hoping to provide the best possible content for strength coaches with each of our shows. If feel this could provide value for anyone else in the strength and conditioning field please feel free to share.
Enjoy the content? Then you should check out The Strength Coach Network!
You can find sensational content just like this in The Strength Coach Network. As a member of The Strength Coach Networks, you can access over 200 hours of the highest-level lecture content just like this one for 48 hours for only $1. Follow the link below to sign up and use the code CVASPS at check out to get a 48 hour trial for only $1. Check out The Strength Coach Network Here! https://strengthcoachnetwork.com/cvasps/
#StrengthCoach, #StrengthAndConditioningCoach, #Podcast, #LearningAtLunch, #TheSeminar, #SportsTraining, #PhysicalPreparation, #TheManual, #SportTraining #SportPerformance, #HumanPerformance, #StrengthTraining, #SpeedTraining, #Training, #Coach, #Performance, #Sport, #HighPerformance, #VBT, #VelocityBasedTraining, #TriphasicTraining, #Plyometrics