Today's My Thoughts Monday is a Hakan Andersson's recount of his trip to RVA for The 2017 Seminar.
On 21-22 July I was invited to lecture at the University of Richmond's wonderfully beautiful campus. For the seventh consecutive year the University and coach Jay DeMayo hosted the Central Virginia Sport Performance Seminar. The target group was mainly strength and conditioning coaches in colleges and professional sport but it also attracted other practitioners, including therapists and also researchers in sport science.
The speaker list was great and the rather small size venue with a limited number of attendees participating allowed for some fantastic social interaction during the breaks, lunches, and dinners along with great networking throughout the seminar between speakers, attendees, and exhibitors.
There was a small but high quality exhibition, displaying cutting edge technology. It was an excellent format of finding business and cooperation partners for the exhibitors, and a great way to get a hands on demonstrations for coaches and others in attendance.
The subject of my lecture was technique and physique for sprint development. The fact that I was invited is an acknowledgement that Americans respect and are interested in Swedish sport and Swedish coaching – despite the fact that they themselves are incredibly successful in many sports and strength and conditioning for team team sports is according to my view usually performed in a more professional way in the United States than in Sweden.
What stood out the most was definitely the level of the speakers. They did not only present very interesting and thought provoking information they also presented in a very professional manner. One thing that struck me and it seem to be the same all over the world; almost all the presenters were male and 95% of the attendees were also male! Where are all the female researchers and coaches?
A book was also published in connection with the seminar (The Manual Vol. 2) featuring myself and several lecturers from this year's and previous year's seminar write about different aspects of training and development of sports. The book is called Manual 2 and can be ordered at https://cvasps.com/product/manual-vol-2/. On the website you can also download lectures presentations.
Jay DeMayo had as usually invited an impressive row of lecturers and first out on Friday was Doug McKenney. Dough McKenney was the first full-time strength and conditioning coach in the NHL when he was employed by Pittsburgh Penguins in 1985. McKenney was also a pioneer in NHL performing systematic speed tests on ice. McKenney later worked for no less than 18 seasons in the Buffalo Sabre organization-with the standing goal of constantly improving the team's performance level.
In addition, McKenney worked very close to the other coaches, physiotherapists and physicians with rehabilitation of injured players – to quickly and safely help them return to their optimal gaming performance.
McKenny also explained the importance of adapting the conditioning training following the team's playing schedule and stressed the importance of maintaining training even when the team is on so-called "road trips" with up to 4 matches in a week. McKenney put particular emphasis on teaching players about the important relationship between healthy nutrition, body composition, speed, strength, aerobic and anaerobic endurance.
His lecture focused a lot on how optimal hydration and energy fulfillment can maximize performance and reduce the risk of injury. His success can be measured with the impressive consequence that his team often scored in the smallest amount of man-games-missed category throughout his NHL career. He also emphasized the importance of constant personal communication with all players-something that takes time but always has to of top priority.
Lecturer number two was Matt Thome from Michigan Tech University. Matt Thome, like many other American coaches, has a University degree in Exercise Science. Matt Thome is the university's head strength and conditioning coach in American football and basketball and also teaches at the universities in several courses in biomechanics each semester.
Thome talked a lot about training and adaptation and in his opinion training can often be improved by reducing the volume in favor of quality, this for optimal development, but also to avoid overloading with consequential overuse and injuries. Thome's view of this is summarized very well with the following illustration.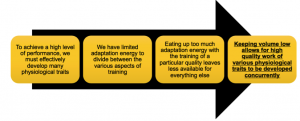 Day two started with really well with coach Keenan Robinson. Keenan is the United States Swimming High Performance Director and has worked with swimmers from the North Baltimore Aquatics Club, University of Michigan, Arizona State and USA Swimming for many years, mostly in collaboration with legendary swim coach Bob Bowman. Their success they have had has been tremendous and their athletes' Olympic medals are approaching 50! Their premier swimmer is undoubtedly Michel Phelps for whom Keenan has coached since since his younger teens. Keenan Robinson talked about the importance of swimming at low intensity to tolerate high intensity training and strength train not only for performance but also to avoid injuries. Keenan also spoke about swimming as a sport with a high working ethic and a sport with well-developed high-performance culture.
Brett Bartholomew was perhaps the seminars most driven and dynamic speaker. Brett Bartholomew works as a consultant worldwide in performance-related subjects but is also a writer and is the author of the book "Conscious Coaching". Brett Bartholomew has worked extensively in American football and athletics but also with various assignments within the US Special Forces. Some of Brett Bartholomew's advice was to seek knowledge outside your comfort zone. To be truly successful in sport, you need to be more "interdisciplinary". One can learn a lot from other areas as within the corporate world or social sciences. Many of the problems we encounter in coaching are based on sociology, psychology, management and organizational leadership.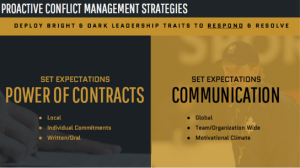 Brett felt that what we do in sport is unique in a way, but it is not "special" because we often try to solve the same issues that are encountered in the professional world around us. "In terms of information that you can use to improve performance specifically, the best resource is your phone or a good handshake. Go and meet and talk with other coaches, leaders or researchers. Offer them to buy lunch and or dinner and keep your mouth shut and let them do the majority of the talking."
Next out was East Tennessee State University Assistant Professor and High Performance Coach, Dr. Brad DeWeese. Dr. DeWeese has, for a number of years, contributed to the success of many athletes in several different sports with a total 20 OS medals and 7 World Championships. Dr. DeWeese is not just a coach; he is also a researcher and has produced a number of publications in the subjects Strength Training and Speed.
Dr. DeWeese spoke a lot about sprint technique and strength training for the development of speed but also a whole lot about periodization. He effectively punctured all the ideas that periodization is dead and out, but in today's sports with often quite short general preparation periods and long competition periods, training must, in many ways, be planned differently than through classical periodization which is still valid in many Olympic sports. Classical periodization involves relatively long preparation periods and clearly defined periods of high performance and top form.
The last speaker was Assistant Professor and High Performance Coach, Dr. Brian Man. Dr Bryan Mann has previously competed in the sport of power lifting and is the deputy director of All graduation at the University of Missouri where he has been active since 2004. Dr Mann is a researcher and author and has published several research publications as well as written four books in the field of resistance training. Dr Mann has also worked as a personal adviser for strength development for the world champion in shot put in 2009 and iVM 2004, 2008 and 2010; Christian Cantwell.
Dr. Mann focused his lecture on velocity-based strength training (VBT). An area in which he also published the book "Developing Explosive Athletes – Use of Velocity Based Training in Training athletes" around. Dr Mann considered that through VBT and the feedback received in each repetition, the quality of strength training definitely increases, but also that you in that way get bigger transfers to other qualities like jump and sprint ability. He referred to a study by Randell et al., which showed significantly greater improvements in strength, jumping ability and speed for a group that trained with feedback compared to another group exercising the same things but without feedback. Dr. Mann also spoke warmly around the concept; Strength training with the load in which the athlete produces the highest power, and this is true, according to Dr Mann, especially if you want to develop explosive strengths and speed. Dr Man also categorized strength training in a slightly different way, based on average speed in a lift.
In summary, a very good and well-organized seminar, actually one of the best seminars I've attended! I can strongly recommend CVASPS!
We are hoping to provide the best possible content for strength coaches with each of our shows. If feel this could provide value for anyone else in the strength and conditioning field please feel free to share.
Enjoy the content? Then you should check out The Strength Coach Network!
You can find sensational content just like this in The Strength Coach Network. As a member of The Strength Coach Networks, you can access over 200 hours of the highest-level lecture content just like this one for 48 hours for only $1. Follow the link below to sign up and use the code CVASPS at check out to get a 48 hour trial for only $1. Check out The Strength Coach Network Here! https://strengthcoachnetwork.com/cvasps/
#StrengthCoach, #StrengthAndConditioningCoach, #Podcast, #LearningAtLunch, #TheSeminar, #SportsTraining, #PhysicalPreparation, #TheManual, #SportTraining #SportPerformance, #HumanPerformance, #StrengthTraining, #SpeedTraining, #Training, #Coach, #Performance, #Sport, #HighPerformance, #VBT, #VelocityBasedTraining, #TriphasicTraining, #Plyometrics